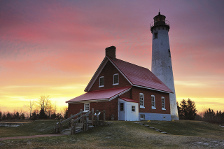 Tawas Bay Regatta
East Tawas, Michigan
September 7th & 8th, 2013
Everybody loves Tawas and this year will be no exception. The Park Rangers love us (as always), and the site is to die for.
This year, weather permitting, we'll be doing a distance race on Saturday. Start will be in front of the Launch Site, with a mid-point lunch at the Tawas City Beach.
VENUE
Tawas Point State Park
in East Tawas, Michigan. Phone (517) 362-5041.
DIRECTIONS
U.S. 23 to East Tawas. At the north edge of town, by the Big Boy restaurant, turn right on Tawas Beach road. Continue about 3 miles to Tawas Point State Park.
SITE DETAIL

ACCOMMODATIONS
Camping
Camping is available at the race site - there are a few other camping areas within 15-20 minute drive (check
here
), but there is no way you can beat Tawas Point State Park. The park includes 175 acres of beautiful lake-surrounded land, providing swimming, playgrounds, picnicking, and 210 modern, grassy campsites. Electricity and heated showers are available. We typically reserve sites on the SE loop of the park (sites 186-210). Reservations should be made through the Michigan DNR site at the link below.
CAMPING RESERVATIONS
Hotels
There are a few hotels in the area within 10 minutes of the launch site. If you feel you must, check the link
here
.
HOSPITALITY
Lunch
Saturday lunch will be available for $7.50/person at the Tawas City Park Beach (near mark F below) or the State Park Beach depending on the weather.
Lunch will include:
Hamburger
Chips
Baked Beans
Potato Salad
Coleslaw
Bottle of Water
Dinner
Saturday evening: Mr. Egerdal will once again provide his sumptuous pulled pork. Please bring a dish to pass.
SAILING RULES
CRAM Racing Rules
This year we're going to do something a bit different. Saturday will be a distance race around Tawas Bay and Sunday will be standard buoy racing. Below you can see where the marks will be set. Buoys A and B are existing red NOAA buoys, and the rest will be set by the CRAM RC. We'll have a traditional windward start to the S Mark. Final position of the S Mark may vary slightly depending on the wind direction.
Click the picture to view the marks overlaid on Google maps. If you'd like to download the waypoints to your GPS device, the GPX file is
here
(right click the link and select Save As). Finally, we made a quick reference sheet for the possible courses and mark positions available at this
link
.
As always, weather conditions may dictate changes to final details, but this is our target.
REGATTA FEES & REGISTRATION
Regatta Fee

Saturday Lunch ($7.50/person)
7.50/ea
CRAM member discount

-$10

Advance Registration Discount
→ Discount expired Sep 4th!

-$0

First Time Racing with CRAM

-$55
*Required
**$35 Annual CRAM membership is available here:
ANNUAL MEMBERSHIP
Remember to make your camping reservations here:
CAMPING RESERVATIONS
SCHEDULE
| | |
| --- | --- |
| Saturday | |
| 8:30 - 9:00 | Registration |
| 9:30 | Skipper's meeting |
| 11:00 | First start signal |
| 17:00 - ?? | Dinner / Campfire |
| | |
| Sunday | |
| 9:00 | Skippers Meeting |
| 10:30 | First start signal |
| 13:00 | Final Race |
| 15:00 | Awards |
For more information, please contact the CRAM commodore at This email address is being protected from spambots. You need JavaScript enabled to view it.